Home
Dear Customers & Friends--we hope everyone is staying safe & healthy! Per Governor Baker's Order closing all non-essential business, The Comic Stop closed it's retail store on Tuesday, March 24th. Diamond Comics will begin distributing comics again on WEDNESDAY , MAY 20TH. While our physical store will still be closed we will able to ship your new comics by mail or deliver them to your doorstep! In addition The Comic Stop is still doing business through our on-line Ebay store. Feel free to call us at (617) 926-3430 or email us at: david@thecomicstop.com with any questions or requests.

Thank you very much for your patronage all these years. During trying times such as these it's been uplifting to see the positive comments & concern by many of you. Best wishes & thoughts go out to you & your family. We very much hope to see you all soon--take care.

WE ARE ALWAYS BUYING OLDER MARVEL & DC COMICS & MAGIC THE GATHERING CARDS!!

ESTABLISHED IN 1996, THE COMIC STOP HAS A RETAIL STORE LOCATED IN WATERTOWN, MASSACHUSETTS! WE STOCK A LARGE VARIETY OF NEW & VINTAGE COMICS, MAGIC THE GATHERING CARDS & OTHER AWESOME COLLECTIBLES--COME VISIT TODAY!
AND JOIN US EVERY OTHER WEEKEND FOR OUR MAGIC THE GATHERING EVENTS--CHECK OUR "MAGIC TOURNEY" PAGE FOR THE LATEST GATHERING UPDATES!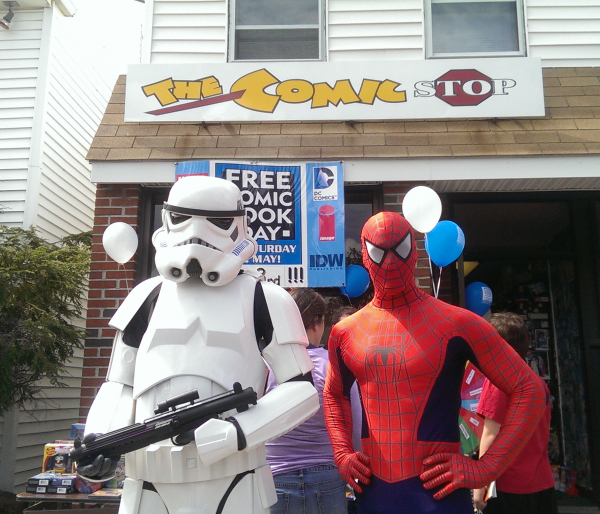 STORE HOURS: TUESDAY, THURSDAY, FRIDAY 11am-6:30pm, WEDNESDAY 11am-7pm, SATURDAY 10-5

PHONE: (617) 926-3430 EMAIL: DAVID@THECOMICSTOP.COM