Home
Dear Customers & Friends--we hope everyone is staying safe & healthy! Per Governor Baker's Order closing all non-essential business, The Comic Stop has closed it's retail store as of Tuesday, March 24th. The plan is to re-open on Tuesday, May 5th. We will still be doing on-line business by mail order & on our Ebay store. Feel free to email us at: david@thecomicstop.com with any questions or requests.
Thank you very much for your patronage all these years. During trying times such as these it's uplifting to see the positive comments & concern by many of you. Best wishes & thoughts go out to you & your family. We very much hope to see you all soon--take care.

WE ARE ALWAYS BUYING OLDER MARVEL & DC COMICS & MAGIC THE GATHERING CARDS!!

ESTABLISHED IN 1996, THE COMIC STOP HAS A RETAIL STORE LOCATED IN WATERTOWN, MASSACHUSETTS! WE STOCK A LARGE VARIETY OF NEW & VINTAGE COMICS, MAGIC THE GATHERING CARDS & OTHER AWESOME COLLECTIBLES--COME VISIT TODAY!
AND JOIN US EVERY OTHER WEEKEND FOR OUR MAGIC THE GATHERING EVENTS--CHECK OUR "MAGIC TOURNEY" PAGE FOR THE LATEST GATHERING UPDATES!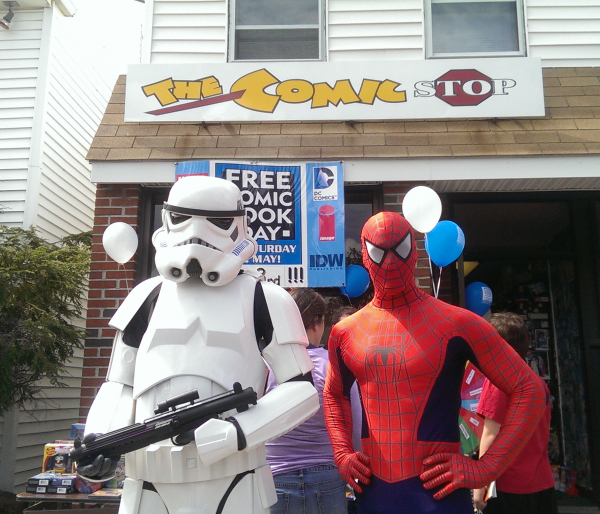 STORE HOURS: TUESDAY, THURSDAY, FRIDAY 11am-6:30pm, WEDNESDAY 11am-7pm, SATURDAY 10-5

PHONE: (617) 926-3430 EMAIL: DAVID@THECOMICSTOP.COM